Top Rated Electronic Medical Records (EMR) Designed By Physicians For Physicians
100% Cloud-Based And Scalable

Customizable And Expandable

Convenient Access to physicians' Instructions

Completely Secure and Reliable

AI Assist to help physicians review chart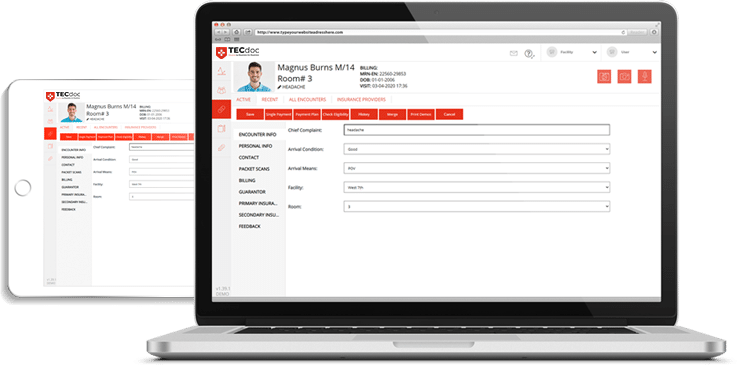 A Software That Optimizes All Your Medical Processes
Why Choose US


User-friendly Interface
TECdoc is designed to make data entry for physicians simple and efficient during patient visits in a unique, practical system for easy use.

Improve The Physicians & Patient Experience
Get all of your patient records in one convenient location, improving physicians and patient experience while optimizing patient data.


Saving Time To Work Smarter
Capable of retrieving patient records at the touch of a button, TECdoc improves efficiency and saves time for both patients and physicians alike.
A completely secure and reliable EMR
TECdoc allows physicians to input data efficiently and accurately so that a patient's medical records can be tracked within one health care facility with ease. As a reliable EMR system, you can improve the patient experience through productive and precise care.
Consistently Track Patient Data

Identify Patients in need of Preventive Care

Universal Electronic Patient Charts

Allows Physicians to Provide Efficient Care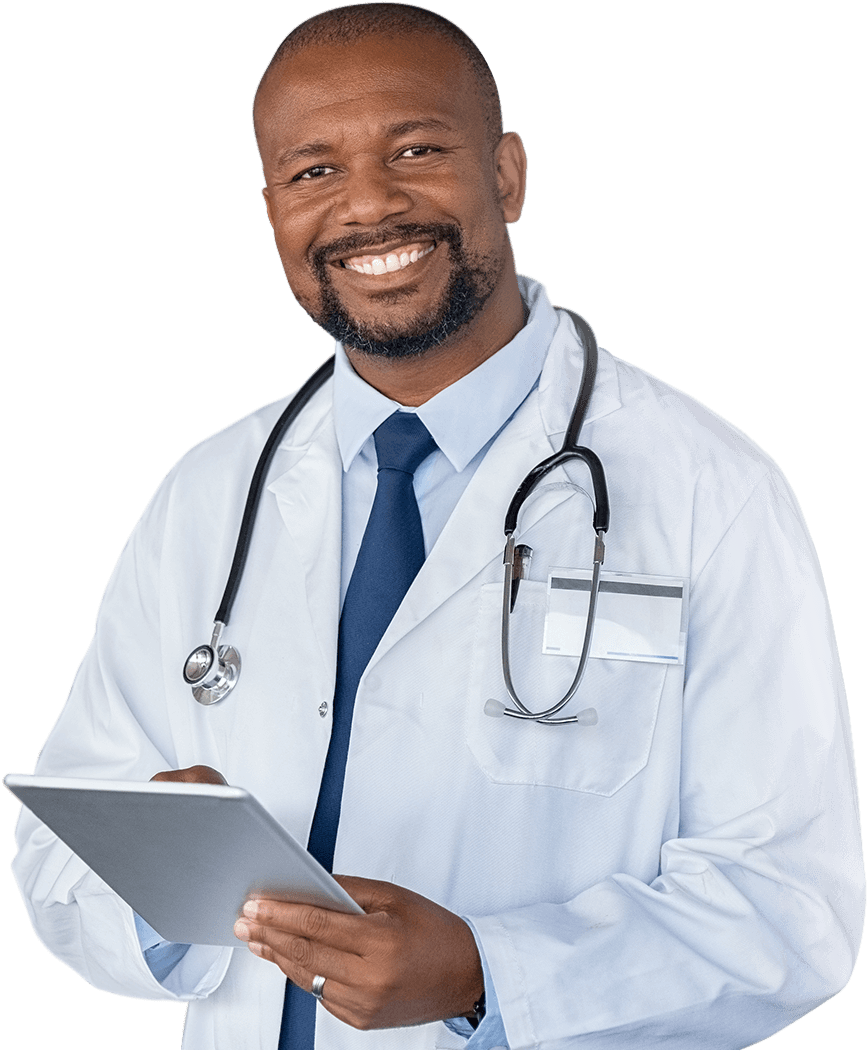 Features & Services

Statistics
As the most reliable EMR, TECdoc offers accurate and timely patient statistics and information, giving you the data you need at the touch of a button.

Staff Directory
Through TECdoc, you can easily access our staff directory to ensure quick and precise patient care, all in one, organized location for the most efficient use.

EMR
EMR (Electronic Medical Record) is a revolutionary way to optimize patient care and give health care providers an easy and efficient way to track patient records and information.

Registration
Using a patient registry that ensures that no one is left behind, TECdoc allows you to manage caseloads and provide integrated care for all of your patients throughout your practice.

Reports
Get up to date information and reports on the care provided for your patients, medications they've been prescribed, allergies, and other detailed information needed to improve patient care.
Well-Informed Patients
The Only EMR that Records The Physicians Instructions Prior To Discharge
In a place where time is so important and everything happens so fast, a voice recording added to the medical report can make a lot of things easier. Keeping your patients well-informed even after visiting their physicians is essential to their continued health. Our EMR offers voice recordings of instructions for patients prior to their discharge.
Secure Communication

High Quality Voice Recordings

Thorough Patient Guidance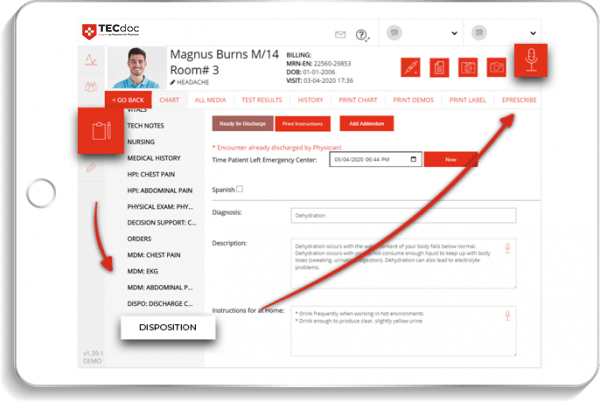 Give Your Patients Confidence In Just Three Simple Steps

Search
TECdoc allows physicians to locate patient charts and create detailed recordings based on their needs and specifications of patient care.


Record
Easily record patient care instructions prior to discharge using our optimized and integrated system with high quality audio.

Save & Share
Easily save your recordings and share them with your patient to give them confidence in their after care needs.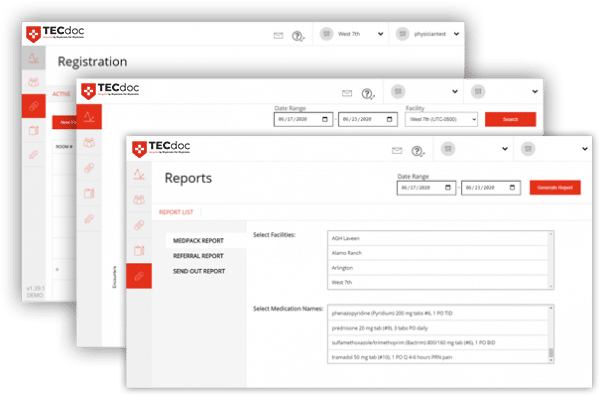 Less Paperwork, Greater Efficiency
With our EMR system, you can limit the amount of paperwork in your facility, thus increasing efficiency and patient care. EMRs are the future of medicine, allowing providers to access direct information about their patients at the touch of a button. Without the hassle of paperwork, patient care can come first.
Stay Focused On Your Patient's Care
Without the hassle of paperwork limiting your time and efficiency, you can stay focused on patient care. Our EMR system is designed to give you all of your patient's information in one, convenient location where you can easily access diagnoses, allergies, medications, lab results, and other health care information. Our goal at TECdoc is to provide high quality support, and patient information management to improve efficiency and quality at your health care facility. For more information, contact us today and learn about the wide range of resources we provide for physicians and health care clinics.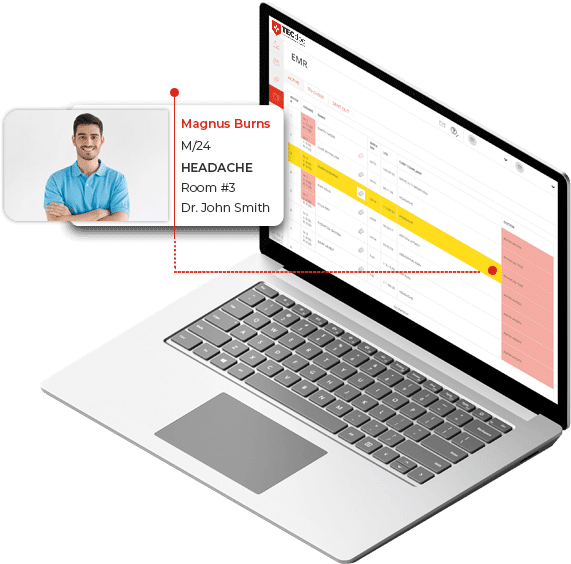 Get Ease Of Use
Across Better
Using a cleaner, more sophisticated interface than ever before, TECdoc offers a more intuitive experience than typical template based EMR systems. With TECdoc, you can automate redundant clicks with shortcodes, streamline your process for rapid workflow, get web-based Chrome automation, and much more. As a portable, cloud-based solution, TECdoc maximizes efficiency and simplicity for easy data entry and improved productivity.
Automate redundant click with shortcodes

Streamline your Workflow

Chrome Automation – Navigate Web Based

Add Vocabulary to recognize specific word

Portable Solution – Cloud Based

Uptime 99.9% guaranteed
Clean and Intuitive Interface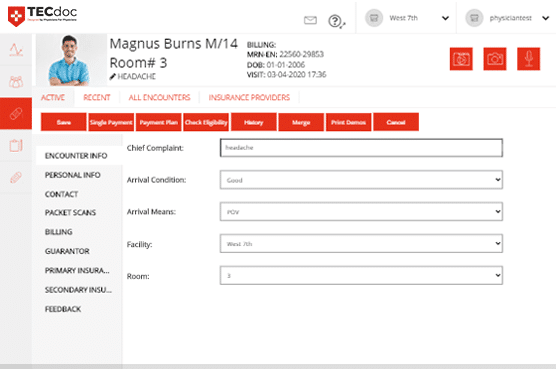 Does not allow to create shortcodes

Does not help to speed up the workflow

Requires special software

Does not have voice entry

They are not portable solutions

Time loss on downed systems
Obsolete and Complicated Interface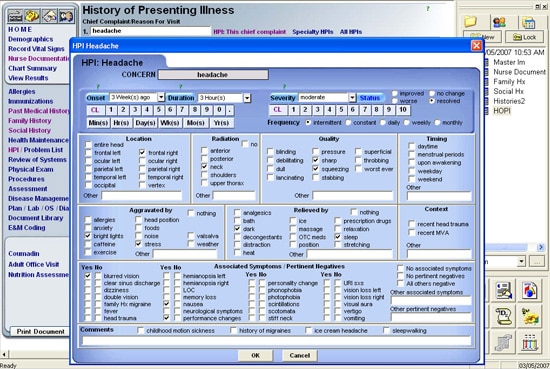 Totally Clean Charts
Produce readable charts that reduce errors and save time
Because of our dedication to efficiency and convenience, TECdoc is mobile device and tablet friendly to give you portable access to patient information and records. With a clean, fresh, and simple interface, charts are simple to navigate and 100% readable to reduce errors, save time, and implement a superior organization method for medical facilities throughout the industry.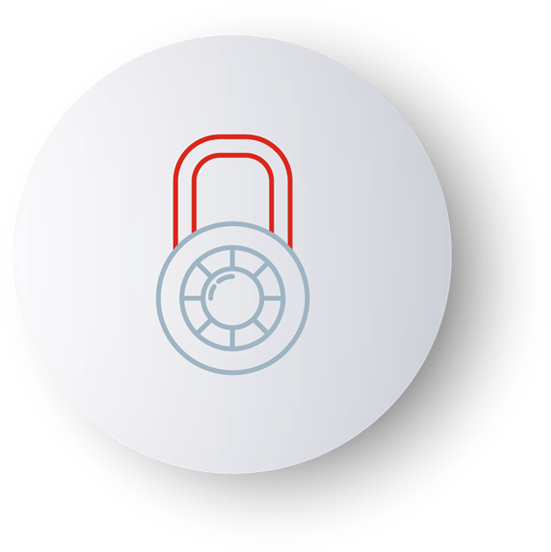 Completely Secure & Reliable
Your patients' information is privileged, and shouldn't be accessed by anyone who is prohibited. TECdoc creates a unique experience that is not only efficient, but completely secure and reliable for physicians, nurses, and other medical staff. While you remain focused on patient care, their information is safe and protected by our trustworthy software. TECdoc ensures safety, quality, and organization across the board for all of your patient medical records, and keeps your data intact with an advanced, secure system.
Low Cost

& Easy Migration
When you are looking to transition to our fast, reliable, and integrated EMR system, TECdoc offers fully assisted migration to ensure that all of your records are carefully and safely merged. With affordable options to give you low cost alternatives to EMR organization, TECdoc also provides a user friendly experience to ensure maximum efficiency and data migration so that no patient or provider is left behind. Take your patient care to the next level with support from our team to ensure a full, seamless transition. Contact us today to learn more.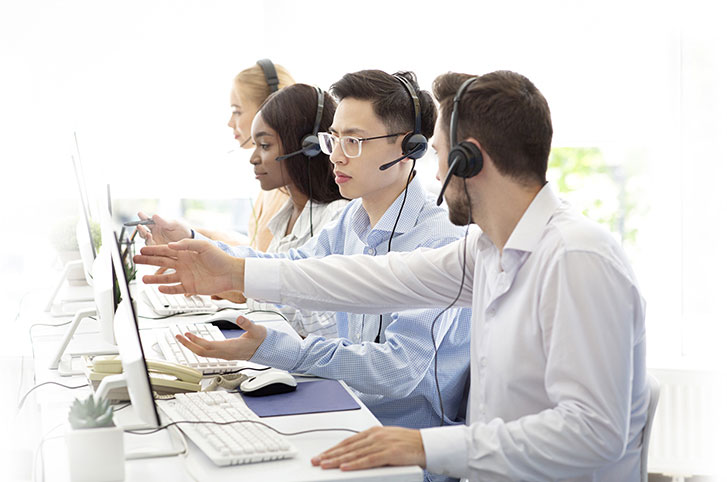 Totally Customizable & Easy
To Integrate Into Existing Systems
TECdoc is a totally customizable EMR platform that allows you to completely customize your usage and integrate with existing systems. Because these systems are integral for improving workflow and facilitating patient care and safety, TECdoc strives to make coordination with your existing system as simple and effective as possible. EMRs are a reliable method for storing patient records, allowing physicians to customize their system according to the needs of their practice, and focus on what matters most: the patient. Contact TECdoc today to learn more.
Cloud Based

|

Fully Scalable & Reliable
Our Electronic Medical Records are cloud based and provide a wide range of scalable options that are thorough, efficient, and reliable for all of your patient management needs.
Patient-Specific Education

Thorough Physician Recordings

Electronic Health care Information

Detailed Medical Records
99.999%
Up Time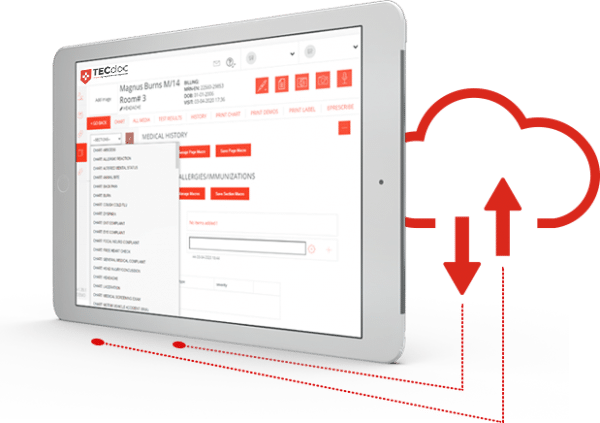 99.999%
Up Time
Interfaces With





Used & Recommended By

TECdoc is a reliable and trusted EMR system that is consistently utilized by The Emergency Center. With state of the art technology to access and update patient records with ease, TECdoc is the best option for a wide range of health care facilities, emergency centers, and private practices.
I have used TECdoc for 9 months now. The onboarding when I started was very smooth and the learning curve was not steep. I like the ease of free texting that is often not present in other EMRs. I also like the ease of inserting pictures and recording conversations with the patient. Of the EMRs that I have used, this one is head and shoulders above the others.

Dr E. Sterling Huff D.O., FACEP
I have been a physician at The Emergency Center for several years and I have been in the industry 30 years. The EMR that we use is one of the best. The features are easy to use like ordering teat labs medication. The macros and dictation features generates a very good chart quickly. One of the best features is the ability to take photographs of wounds and add to chart. I recommend it highly.

TECdoc is the most user friendly EMR I have the used. As the medical director, I have to explain how to use this to each new doctors. It is very easy to onboard new physicians and they all learn it and pick it up quickly- making my job easier. When I do have a question or issue, their support has been fantastic.

frequently asked questions
Get Support
We're Here to Help You


Free Coaching
Once you utilize our integrated EMR system, TECdoc provides free coaching and guidance to help you learn the system with ease.


Moving Your Files
The team at TECdoc is here to help you by implementing full support and assisting you with moving your files to ensure full integration.


Support Options
We have a wide range of support options available to help guide you through our system and make sure the transition is seamless and simple.